Play FreeCell, Sea Towers, Penguin, and more!
Game Numbers compatible with Windows FreeCell!
Dear FreeCell Player,
Have you played FreeCell yet today?
If you have played the FreeCell game that comes with Windows, then you know how addictive FreeCell can be.
But wouldn't it be nice to have a little more?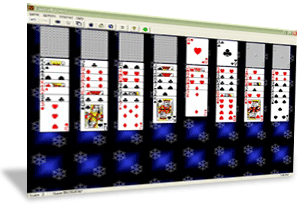 Wouldn't you like to be able to undo more than one move? In fact, wouldn't it be great to be able to undo all of your moves?
Wouldn't you like to be able to save a game in progress, so if your boss walks in, you can resume work where you left off when she leaves?
Wouldn't it be nice to be able to make moves with a single mouse click?

Download the 30 day trial version.
Version 3.1 - September 4, 2012
3.7 Megabytes
For Windows XP/Vista/7/8
100% Clean
Our downloads contain only our games and no other software. No files other than those required to run our games are installed.
Subscribe to our Newsletter
Sign up for the free Goodsol email newsletter. Enter your email address below, and then click the Subscribe button. Your email address will be kept confidential, and it will only be used to send you our free newsletter.